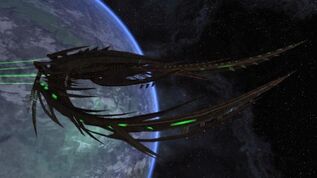 The Aehkhifv was a ship commanded by General Trajan and it was the second ship commissioned by the Vault after the Narada and served as the main ship of the Followers of Nero's activities in the Fringe during the Fringe War. Created much to the same design as the Narada using retrofitted Borg technologies, the Aehkhifv was a force to be reckoned with not really having an equal in combat. It was destroyed in S01Ep05 The Vault along with it's Commanding Officer Trajan during the Federation's assault on the Vault.
Community content is available under
CC-BY-SA
unless otherwise noted.